Kitchen worktops
Kitchen worktops are the most extensively used piece of every household and accordingly their design requires careful attention. Natural stone is undoubtedly the most suitable material for this purpose, not only in the kitchen but also in the summerhouse and around the grill. We offer countertops exclusively made of first class materials, either natural stones, the technical stone SILESTONE® or the ceramic composites DEKTON®.
The resulting product of our effort is always a worktop which fits the individual requirements of our customer. The choice of material as well as its particular processing is a child's play owing to our years' long experience.
Materials:
1. Granite:
We think this natural material is ideal for kitchen, because every countertop made of granite is an irreplaceable original of excellent utility. It is very easy to maintain, stain proof, it does not mind a hot pot and you can even cut food on it. Quartzite has similar properties and is therefore likewise suitable for this purpose. Our granite mainly comes from Africa, Brazil and India, but we have material from Scandinavia, Baltic region and Italy in our collection.
Width of countertops: 20 mm or 30 mm.
Surface finishes:
2. SILESTONE®:
An advantage of this technical stone is the wide variety of colours it comes in, down from as white as snow up to black – the sort of colour homogeneity not found in nature. Apart from heat resistance it essentially matches the properties of granite.
Width of countertops: 12 mm, 20 mm or 30 mm.
Surface finishes:
3. DEKTON®:
It is a promising ceramic composite which often imitates the surface of various traditional materials like marble, concrete or metal, well. In this case the price is higher, however, it fully matches the properties of granite as regards its utility.
Width of countertops: 8 mm, 12 mm or 20 mm.
Surface finishes:

Polished,
Matt,
Textured.
4. Marble:
We cannot recommend this material for kitchen use, however, we can make a worktop out of it for customers who insist on this choice of material. Surely it is a material beautiful by nature, however, it is delicate and requires very demanding maintenance. In this case the width has to be at least 30mm. The surface finish can be polished, honed or patina.
Processing:
Edge profiles:
There are many possibilities when choosing the edge type. They can be flat, bevelled, rounded or otherwise profiled, cleft or glued.
Examples of the most common types
Flat eased

Straight bevelled edge

Quarter round r 5 mm

Quarter round r 10 mm

Full Bullnose

Hollywood bevel

Sink openings:
The right choice of sink setting is important, the alternatives being:
Sink set from above of the worktop,
Sink set from below of the worktop,
Sink set in the plane of the worktop.
Sinks and drain made of stone:
We offer sinks and drainage made of granite.
Other openings​​​​​​​:
v Every worktop usually needs an opening for the kitchen stove, fan or other things. The kitchen stove can be set from above onto the worktop, or elegantly set in its plane.
Maintenance: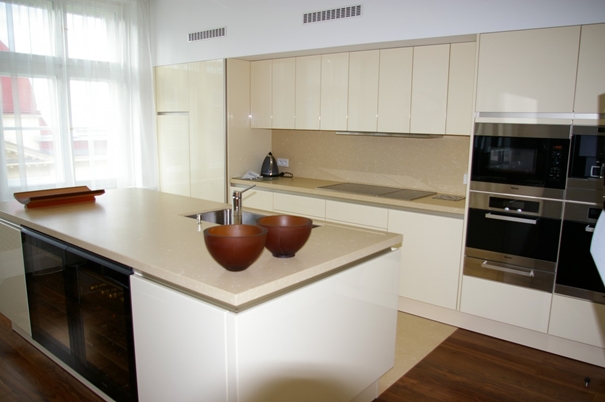 Daily Cleaning:
As we have said already, our worktops are not maintenance-demanding. Cleaning the worktop with a damp dish cloth is typical. For this sort of everyday maintenance, it is possible to use one of the various so-called ''everyday cleaning chemicals'' which are available in professional as well as hobby stores. These chemicals do not reduce the effectiveness of the stone seal and therefore your worktop preserves its original beauty for long.
Regular stone sealing:
We recommend regular stone sealing of the worktop, applied at least 2 to 4 times per year depending on the particular material. Make sure that your worktop does not come into contact with water or any other liquid for at least 24 hours before applying the stone sealer. Before applying the stone sealer itself use an alcohol cleaner or ''Cleaner I'' made by AKEMI®, both of which ensure removal of grease.
It remains to apply one of the suitable stone sealers according to the directions for use. Among the reliable ones are "Anti –spot", or "Anti –spot nano effect" made by the German producer AKEMI®. Another excellent product of the same producer is "Tripple effect". All of these chemicals are harmless.
In 24 hours the worktop is ready for safe use.